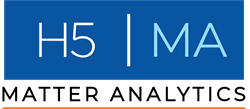 SAN FRANCISCO (PRWEB) MARCH 19, 2021
H5 today announced a new functionality now available in H5 Matter Analytics that expands the H5 Privilege Analytics solution by enhancing the process of creating privilege logs from within the H5 well-established Relativity-integrated application. With customization features and reusable template generation for future privilege log creation, the new module expands the power of Privilege Analytics, which accelerates the overall privilege review workflow.
The creation of privilege logs, which describe reasons for withholding items from production in a lawsuit under a claim of attorney-client privilege or work product protection, can be a tedious, expensive and labor-intensive process, especially given the large data volume that exists in many of today's matters.
The new H5 Privilege Log Design Module is designed to simplify and expedite the privilege logging process with clean name normalization outputs and automated, customizable privilege reasons assigned to each potentially-privileged document. Users benefit by having access to these integrated features from within Relativity or RelativityOne, permitting customization as the log is built.
"There are few technologies in the marketplace that effectively address privilege and privilege logging, which are huge costs in litigation," said Jason Richard, H5 Vice President of Products. "H5 Matter Analytics targets the most challenging parts of the privilege workflow, starting with advanced solutions for privilege content identification, continuing through to the creation, QC, and finalization of the privilege log. We're very excited to leverage nearly 20 years of technology experience in this new release to help customers address the costs and risks associated with privilege review."
The integration of the Privilege Log Design Module into H5 Matter Analytics Privilege Analytics expands the overall privilege review solution to include both the identification and classification of sensitive privileged information and the time-consuming chore of compiling details and reasons, easing the case team's burden.
The new release of H5 Matter Analytics 2.7.3, which contains the Privilege Log Design Module, is now widely available.
About H5
H5 helps corporations and law firms find and manage the documents that matter in litigation and investigations by providing expert-driven, technological solutions to address the complex challenges created by electronic data. With expertise in eDiscovery, technology-assisted review and search, H5 is committed to helping clients find and manage the information they need to win cases, meet regulatory requirements and address risks by providing creative solutions that ensure fast, accurate, cost-effective results. This commitment has resulted in the development of H5 Matter Intelligence® and H5 Matter Analytics®, advanced eDiscovery products that streamline reviewand enhance the user experience for Relativity® and Relativity® One hosted matters. Visit us at http://www.h5.com.